Download the show
here
-
Your News Portal without the Jewish Filter
Anti-Muslim video sparks new outrage against Denmark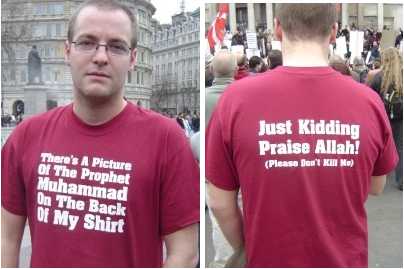 Danes have been warned against travelling to a number of Muslim countries after the release of a video showing young members of an anti-immigrant party mocking the Prophet Mohamed.
Images drawn by members of the youth wing of the Danish People's Party, and shown on television and the internet, were condemned by Islamic leaders in Egypt and Indonesia, threatening to reawaken the furore over cartoons published last year in Denmark.
The film was made by a group called Defending Denmark which said it infiltrated the youth wing of the far-right party for 18 months "to document [its] extreme right-wing associations". It showed the junior members of the party, who appeared to have been drinking, holding a drawing contest during their summer camp.
One woman presented a cartoon showing a camel with the head of Mohamed and beer cans for humps. A second drawing showed a bearded man wearing a turban next to a plus sign and a bomb, equalling a nuclear mushroom cloud.
Yesterday the video was removed from the internet but not before it had provoked a diplomatic incident.
The Danish Foreign Ministry in Copenhagen cautioned its citizens against travel to Gaza, the West Bank, Saudi Arabia, Lebanon, Jordan, Egypt, Iraq, Iran, Syria and Turkey.
In the past two days, "several Arabic media have published critical reports about the airing of the video from the Mohamed competition," it said.
"Against that background, we urge Danes to use caution as the matter could possibly lead to negative reactions. The atmosphere and reactions can vary dependent on time and place. Danes should be aware of the local mood," the ministry added.
Last September a Danish newspaper Jyllands-Posten printed 12 cartoons portraying Mohamed, sparking a furious debate about freedom of speech. When the images were reprinted four months later in a range of newspapers, they triggered massive protests - some violent - from Morocco to Indonesia and a boycott of Danish goods.
In the latest row the Danish People's Party has come under fire for failing to expel those shown on the video. The party's leader, Pia Kjaersgaard, has defended the participants' right to freedom of speech.
While the DPP is not part of the coalition of Prime Minister Anders Fogh Rasmussen, the government has relied on its votes to get measures through the Danish parliament.
On Sunday, Mr Rasmussen condemned the DPP youth wing, saying "their tasteless behaviour in no way represents the way the Danish people or young Danish people view Muslims or Islam". In Tehran, Iran summoned Denmark's ambassador to complain about the broadcast. The Organisation of the Islamic Conference condemned the cartoons.
The Independent
England faces population boom
England's population will rise by more than six million within 25 years, official figures predicted yesterday.
Every region will see an increase.
By 2029, the Office for National Statistics predicts there will be 56.4 million people in England, confirming it as one of the world's most crowded nations.
England's population passed the 50 million mark in 2004 and now makes up about 83 per cent of the British total of more than 60 million.
Local population projections, using 2004 as a base, show that London will see the biggest rise of almost 20 per cent, followed by the South West (16 per cent) and the East (15 per cent). The lowest population growth is predicted in the North East (four per cent).
The population in more than a fifth of local authorities is projected to increase by more than 20 per cent by 2029, while six per cent of authorities are projected to have decreasing numbers.
advertisementEngland on its own has the 24th highest population in the world and is one of the world's most densely populated nations, with 383 people per square kilometre compared with 246 for Britain as a whole and a European average of 117.
The biggest factor in the population rise is immigration. It has been estimated that 80 per cent of the rise will be as a result of migrants.
However, the population will be ageing. The figures showed that the number of people aged over 65 will be 12.3 million, compared to eight million today, while the population aged 16 to 64 will grow by only two million.
The growth in population has considerable public policy implications. Infrastructure and services have to be sufficiently robust to cope with the numbers, especially in London and the South East.
Daily Telegraph
Wartime bishop helped Nazis escape
Bishop Alois Hudal
A Catholic seminary in Rome has opened its wartime archives to shed light on a notorious Austrian bishop who supported the Nazis.
Bishop Alois Hudal, who died in 1963, was the director of the Pan-Germanic College of Santa Maria dell' Anima in Rome between 1923 and 1952. The college is the main training centre in Rome for German priests.
The priest openly declared his pro-Nazi views and has been labelled the "Black Bishop" by Simon Wiesenthal, the Nazi hunter whose foundation gathered evidence against him.
Inside the vault, historians from the Institute for Austrian History in Rome found a copy of a telegram sent to Adolf Hitler by Hudal supporting the annexation of Austria.
advertisementThe archive also confirms that Hudal helped many German soldiers escape to South America. Among those he is suspected of helping is Franz Stangl, commander of the Treblinka death camp.
Daily Telegraph
Italian TV show on drug-taking MPs pulled from schedules
MEP Alessandra Mussolini
wants system Politicans named
Twelve Italian MPs allegedly tested positive for cannabis in TV show's sting. Photograph: Getty Images
A television programme that purports to show widespread drug use among Italy's MPs was scrapped before transmission last night amid uproar over both the results and the methods used to entrap the politicians.
In a classic sting operation some 50 politicians were fooled into thinking they were being interviewed about aspects of next year's draft budget, currently before parliament. Instead, a make-up artist with a satirical TV show swabbed their eyebrows to get a sample of their perspiration, which was then tested for traces of cannabis and cocaine. Twelve allegedly tested positive for cannabis and four for cocaine, all apparently taken in the 36 hours before being approached.
Although the 16 have not been named, Le Iene (The Hyenas), well-known for spoofs that embarrass public figures, was cancelled over claims that the privacy of the politicians had been invaded.
Davide Parenti, head of the programme team, was angry that the show had been axed and denied that anyone's privacy had been invaded. He said the samples taken from the MPs had been gathered without their names being attached and the programme had not planned to identify anyone. The politicians would have been seen in shadow, with their voices camouflaged.
"The spirit of the programme is not to persecute any one person but to be the mirror of Italy." He said the results of the tests were "in line with national statistics" which show drug use is common in Italy.
Italy's politicians reacted angrily to the stunt, however, and many questioned the accuracy of the tests. The former president of the lower house, Pierferdinando Casini, said: "The value of this experiment is precisely zero." He added that the problem of drug use was nothing to joke about.
Paolo Gambescia of the Olive party said: "Even if the names aren't revealed, this makes us all suspects."
Italo Bocchino of the rightwing National Alliance called for the destruction of the samples taken from MPs. He said programme makers should be "severely punished for being in illegal possession of the DNA of 50 parliamentarians".
But the rightwing politician Alessandra Mussolini demanded that the names of the MPs be made public: "Enough of double standards. If there is a law that punishes the use of drugs in this country it is not right that politicians should take them. What example does this give to our young people, what does this do to the credibility of parliamentarians?"
A leftwing MP, Franco Grillini, one of the MPs interviewed by the programme makers, who purported to represent Fox TV, said he was not among those who tested positive, because the last time he smoked cannabis was when he was 16. "I knew something was suspect as soon as I was approached by the TV crew. The girl had something hidden in her hand when she wiped my brow," he said. "It was obvious they weren't in the least interested in talking about the finance laws because they didn't listen to what I had to say."
He said he had no idea if the tests - conducted with a device called Drugswipe, which can be bought on the internet and is used by German and Swiss police - were reliable.
Asked about drug-taking among Italian MPs, he said he knew politicians who smoked cannabis in their own homes. "In my opinion the idea of one parliamentarian in three who has consumed some type of drug, above all light ones, is realistic. On cocaine, frankly, I don't know. It's more of a rightwing thing."
Italian politicians have a long history of drug misdemeanours. In 2003 the former prime minister Emilio Colombo admitted that he had purchased cocaine after his drug dealer was arrested but said it was for "therapeutic purposes".
Last year, during a debate on Italy's drug law, former deputy prime minister Gianfranco Fini admitted having smoked a joint once while he was on holiday in Jamaica; Pierferdinando Casini also said he had tried the drug, prompting former prime minister Silvio Berlusconi to joke: "While those two were taking drugs, I was working."
Le Iene is shown on Italia 1, a channel owned by the Berlusconi family. Last night's show had been due to open a new season of the cult TV programme, which has gained a big following in Italy.
Backstory
Italy's drug laws were relaxed after a 1993 referendum but were tightened again last year in a zero tolerance policy promoted by the former deputy prime minister, Gianfranco Fini. The new laws abolished the distinction between hard and soft drugs and made possession, as well as dealing, a criminal offence. Under the new laws, anyone found in possession of as little as two cannabis joints could, in theory, be prosecuted as a
The Guardian
Ethnic diversity 'breeds mistrust'
ETHNIC diversity seriously undermines the trust and social bonds within a community, according to important new research that casts a gloomy shadow over optimistic theories about the benefits of the social melting pot in immigrant societies such as Australia.
The worrying findings about the effects of ethnic diversity were developed by Robert Putnam, a Harvard University political scientist whose previous research on community dynamics has been highly influential among policymakers in the US and cited by Australian prime ministerial aspirants Peter Costello and Mark Latham.
Professor Putnam has delayed releasing the results of his research for fear of the impact it could have on politicians and other policymakers, but he revealed its thrust yesterday in an interview with London's Financial Times newspaper.
His extensive research found that the more diverse a community, the less likely were its inhabitants to trust anyone, from their next-door neighbour to their local government.
People were even more wary of members of their own ethnic groups, as well as people from different backgrounds.
The impact of the research will be amplified because of the status of Professor Putnam, whose book Bowling Alone was closely studied by governments and academics around the world after its publication in 2000.
Bowling Alone spelled out the extent to which "social capital" has fallen away in recent decades as fewer people join the volunteer and community groups that have long played a role in social cohesion.
The title referred to Professor Putnam's finding that many people were dropping out of groups such as bowling clubs and spending time alone, rather than in social networks.
Both the federal Treasurer and the former federal Labor leader Mr Latham borrowed concepts from the book in speeches on social capital.
Professor Putnam, who is now working in Britain, told the Financial Times that, after several years of research, he had held off publishing his results until he could develop suggestions that might help compensate for the negative effects of diversity, saying it "would have been irresponsible to publish without that".
His most important finding was that "in the presence of diversity, we hunker down".
"We act like turtles," he said. "The effect of diversity is worse than had been imagined."
His research was conducted in the US but he believes its findings are likely to be mirrored in other countries.
It will be studied closely in Australia and most European countries, where governments are increasingly struggling with the political and social fallout of immigration and ethnic and religious diversity.
Professor Putnam found that trust was lowest in Los Angeles, "the most diverse human habitation in human history", but his findings also held for rural South Dakota, where "diversity means inviting Swedes to a Norwegians' picnic".
When the data were adjusted for class, income and other factors, they showed that the more people of different races lived in the same community, the greater the loss of trust.
The Australian
Pauline Hanson to sue electoral body
FORMER One Nation leader Pauline Hanson is suing the Queensland Electoral Commission (QEC) over what she says is an act of "bastardry".
The former federal MP spent 11 weeks in jail in 2003 for electoral fraud before her conviction was overturned and she was released.
Her problems began after the 1998 state election when One Nation won 11 seats and more than the 4 per cent threshold of the primary vote needed to secure electoral funding from the QEC.
A civil action led to the party being deregistered the following year in Queensland on the grounds One Nation did not have the required 500 members as claimed.
The decision was later overturned but only after a "fighting fund" was set up to repay the QEC the $502,000 it had provided for election campaign expenses in 1998.
One donation of $150,000 came from Sydney businessman Michael Kordek.
Ms Hanson wants to recoup the $502,000 and if her action is successful, advertise for people who contributed to the fund so they can be repaid.
She is also seeking $245,000 in interest, plus legal costs, which she said added up the total amount sought of $780,000.
The law suit was registered in August in the Queensland Supreme Court but has not yet been served on the QEC.
Ms Hanson said she would represent herself because she had no money for a legal battle.
The QEC told Ms Hanson earlier this year there were no grounds under the Electoral Act to repay her money, which had left her and many others out of pocket.
"It's absolute bastardry on their part to hold on to this money," Ms Hanson said.
"They are forcing me now to try and deal with this legally and it's cost me thousands already, but they've got a bottomless pit of taxpayers' dollars."
At one stage, Ms Hanson thought she would have to sell her house, near Ipswich, to pay the QEC, but public donations saved her.
"The party had no money but the public heard about it and actually came to my aid and donated money, so I was actually able to pay back the QEC," she said.
The State Government will not compensate her, despite making a payout to former Queensland chief magistrate Di Fingleton who was imprisoned for six months in 2003 for retaliating against a witness over an email sent to a colleague, Ms Hanson said.
"Di Fingleton gets compensation for wrongful imprisonment. I get stuff all."
Ms Hanson has been working on a book and as a real estate agent, but she has said the latter job had "not worked out".
News.com
Schoolgirl arrested for refusing to study with non-English pupils
Codie Stott: The 14-year-old schoolgirl was arrested for racism and spent three-and-a-half hours in police custody
A teenage schoolgirl was arrested by police for racism after refusing to sit with a group of Asian students because some of them did not speak English.
Codie Stott's family claim she was forced to spend three-and-a-half hours in a police cell after she was reported by her teachers.
The 14-year-old - who was released without charge - said it had been a simple matter of commonsense and accused the school and police of an over-the-top reaction.
The incident happened in the same local education authority where a ten-year-old boy was prosecuted earlier this year for calling a schoolfriend racist names in the playground, a move branded by a judge "political correctness gone mad."
Codie was attending a GCSE science class at Harrop Fold High School in Worsley, Greater Manchester, when the incident happened.
The teenager had not been in school the day before due to a hospital appointment and had missed the start of a project, so the teacher allocated her a group to sit with.
"She said I had to sit there with five Asian pupils," said Codie yesterday.
"Only one could speak English, so she had to tell that one what to do so she could explain in their language. Then she sat me with them and said 'Discuss'."
According to Codie, the five - four boys and a girl - then began talking in a language she didn't understand, thought to be Urdu, so she went to speak to the teacher.
"I said 'I'm not being funny, but can I change groups because I can't understand them?' But she started shouting and screaming, saying 'It's racist, you're going to get done by the police'."
Codie said she went outside to calm down where another teacher found her and, after speaking to her class teacher, put her in isolation for the rest of the day.
A complaint was made to a police officer based full-time at the school, and more than a week after the incident on September 26 she was taken to Swinton police station and placed under arrest.
"They told me to take my laces out of my shoes and remove my jewellery, and I had my fingerprints and photograph taken," said Codie. "It was awful."
After questioning on suspicion of committing a section five racial public order offence, her mother Nicola says she was placed in a bare cell for three-and-a-half hours then released without charge.
She only returned to lessons this week and has been put in a different science class.
Yesterday Miss Stott, 37, a cleaner, said: "Codie was not being racist." "The reaction from the school and police is totally over the top and I am furious my daughter had to go through this trauma when all she was saying was common sense. "
"She'd have been better off not saying anything and getting into trouble for not being able to do the work."
Miss Stott, who is separated from Codie and her 18-year-old brother Ashley's father, lives with her partner Keith Seanor, a 36-year-old cable layer, in Walkden.
School insiders acknowledge that at least three of the students Codie refused to sit with had recently arrived in this country and spoke little English.
But they say her comments afterwards raised further concerns, for example allegedly referring to the students as "blacks" - something she denied yesterday.
The school is now investigating exactly what happened before deciding what action - if any - to take against Codie.
Headteacher Dr Antony Edkins said: "An allegation of a serious nature was made concerning a racially motivated remark by one student towards a group of Asian students new to the school and new to the country."
"We aim to ensure a caring and tolerant attitude towards people and pupils of all ethnic backgrounds and will not stand for racism in any form."
Fewer than two per cent of pupils at Harrop Fold come from an ethnic minority.
It had the worst GCSE results in the entire Salford LEA last year with just 15 per cent of pupils achieving five good passes including English and maths, a third of the national average.
Since being placed in special measures, Ofsted inspectors say it has improved, not least as a result of Dr Edkins's "outstanding" leadership.
Salford was at the centre of a storm last April after a ten-year-old boy was hauled before a court for allegedly calling an 11-year-old mixed race pupil a 'Paki' and 'Bin Laden' in a playground argument at a primary school in Irlam.
When the case came before District Judge Jonathan Finestein he said the decision to prosecute showed "how stupid the whole system is getting".
But was himself fiercely attacked by teaching union leaders for "feeding a pernicious agenda" that aided the BNP.
The prosecution was eventually dropped.
Last night Robert Whelan, deputy director of the Civitas think-tank, said: "It's obviously common sense that pupils who don't speak English cause problems for other pupils and for teachers."
"I'm sure this sort of thing happens all the time, but it's a sad reflection on the school if they can't deal with it without involving the police."
"A lot of these arrests don't result in prosecutions - they aim is to frighten us into self-censorship until we watch everything we say."
Greater Manchester Police denied Codie had been kept in a cell but would not comment further.
Daily Mail